Spine & Sport Physical Therapy Clinic
Oceanside
Address
2335 Vista Way
Oceanside, CA 92054
*Located inside LA Fitness
Contact
Fax: (877) 298-4204
Languages: English, Spanish, Russian
PT clinic hours
Monday, 7am–6pm
Tuesday, 7am–6pm
Wednesday, 7am–6pm
Thursday, 7am–6pm
Friday, 7am–6pm
Saturday, 8am-12pm
---
Parking instructions
Nearby landmark: Located inside LA Fitness.
Oceanside physical therapy clinic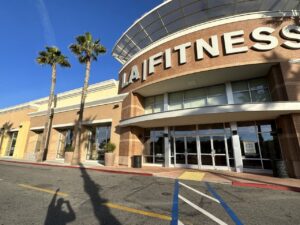 Map & directions to Spine & Sport Physical Therapy clinic
Oceanside
Physical therapy programs, equipment & services at Oceanside
General physical therapy services
Exercises, strengthening, balancing training.
Surgical rehab PT.
Sports injury and other injury physical therapy and prevention.
Sports performance training.
Workers' comp and work-related injury PT.
Ergonomics.
Physical therapy for hand, upper & lower extremities, back, neck, muscles and joints, and for conditions or injuries such as spinal stenosis, arthritis and strains/sprains/tears.
Special therapy services at this location
Certified Hand Therapy.
Aquatic therapy.
Evaluations & equipment at this location
Objective measurement testing.
MedX.
BackStrong.
McKenzie evaluations.
Exercise & stretching equipment, including dumbbells, bands, treatment tables, arm bikes, recumbent bikes and treadmills.
---
Clinic director:
Physical Therapist – Lucas Pratt, PT, DPT, FAAOMPT
Lucas attended the University of St. Augustine's Doctor of Physical Therapy program, graduating in 2012 with high honors and receiving the Stanley Paris Award for Excellence in Manual Therapy.
Since completing his doctorate, Lucas has been practicing in orthopaedic, sports and manual physical therapy settings throughout Southern California, while continuing to pursue advanced education and specializations in manual therapy, movement science, biopsychosocial patient care and clinical education.
Lucas has completed two certifications in manual therapy, from the University of St. Augustine and from the Manual Therapy Institute. He completed a residency program in orthopaedic physical therapy, earning his board certification as an Orthopaedic Clinical Specialist (OCS). He then pursued a three-year post-doctoral fellowship program through the Manual Therapy Institute, earning the credential of Fellow of the American Academy of Orthopaedic & Manual Physical Therapists (FAAOMPT), the highest level of specialization a physical therapist can attain for the practice setting.
Lucas is passionate about partnering with his patients and celebrating with them when they recover and reach their performance goals, getting back to enjoying dynamically moving through their lives. He is also passionate about clinical education and the advancement of the physical therapy profession, specifically in orthopaedic and sports PT settings. For his efforts and involvement in these areas, Lucas received the University of St. Augustine's Patricia King Alumni Award for Outstanding Alumni in 2017.
He has published numerous peer-reviewed articles on expertise in orthopaedic physical therapy care and the integration of psycho-social factors into orthopaedic practice in journals such as Journal of Orthopaedic & Sports Physical Therapy (JOSPT), Orthopaedic Physical Therapy Practice, and the Journal of Manual & Manipulative Therapy. He has presented at national conferences for the American Physical Therapy Association (APTA), American Academy of Orthopaedic Manual Physical Therapists (AAOMPT), and internationally at the World Confederation of Physical Therapy.
Outside of the clinic, Lucas enjoys life with his family and friends, his church, going camping, beach days, and all things arts and music.
Other Spine & Sport Physical Therapy clinics near me:  North San Diego County