Patient testimonials for Rancho Santa Margarita
Our physical therapists have a passion for helping others heal, and everyone at Spine & Sport Physical Therapy is driven by our patients' success and satisfaction. When patients send us their words of thanks and appreciation, like these patient testimonials for our Rancho Santa Margarita, we feel especially honored to have helped them return to their favorite activities.
---
Shoulder help for a Pilates regular
One of the best features of having a Pilates studio within a physical therapy clinic? Both physical therapy patients and our Pilates clients have direct access to our physical therapists! Lisa B.'s journey started in our Pilates studio back in July 2017.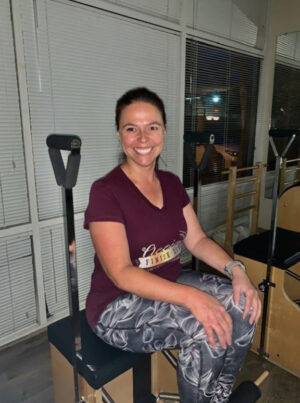 Lisa originally found Spine & Sport Physical Therapy, Rancho Santa Margarita back when we were Envision Sport Physical therapy & Pilates when she first gave Pilates a try. It's safe to say that Lisa fell in love with Pilates as we see her in the studio 3-4 days a week! However, one day Lisa mentioned to our staff that her shoulder was bothering her and she was encouraged to schedule an injury assessment with one of our physical therapists.
"I was very limited in any sideways motion with my right arm, including opening doors, carrying things and especially putting my handbag down on the seat next to me when getting in the car."
Unfortunately for Lisa, shoulder injuries take some time to heal and progress can seem slow. With the help of our therapists, Lisa is back doing all her everyday activities and can do her normal Pilates exercises.
"I have found everyone at Spine & Sport, both in physical therapy and Pilates, to be friendly, helpful and welcoming. It is a very comfortable place to be. My biggest piece of advice to anyone starting physical therapy is to be patient and trust your physical therapist."
---
Therapist spots underlying issue, corrected by surgery
]Bernie P.  originally came to Spine & Sport Physical Therapy for multiple injuries including his rotator cuff and sciatica, while also experiencing lower abdominal pain. With the help of our physical therapists, he now knows what was causing his pain and has made some changes to his routine that have improved his well-being.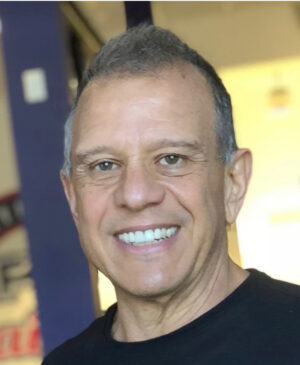 When he was first assessed, his physical therapist suggested he see his primary care doctor for the lower abdominal pain he was experiencing. The therapists concern? A potential hernia.
"Long story short, that was exactly my issue and the surgery totally solved that problem within a few weeks. The lesson here is that even though this wasn't solved by PT directly, the very knowledgeable therapist quickly suspected another issue which was total correct and initially missed by my doctor."
Learn more about Bernie's PT journey
---
Would like PT every day!

"I just love all the people at Spine & Sport Physical Therapy, Rancho Santa Margarita! They always make me feel like I am at home and loved. If I could have PT every day I would and l would do it at Spine & Sport. Jaclyn is an amazing physical therapist."
– Kerri M. 
---
Experience the difference

"l had been to several other practices in the area before finding[Spine & Sport], but this place was different because of the openness and interaction everyone had during sessions. [There's] privacy when needed, but it was actually fun to come in and interact with everyone.

"I knew I wouldn't injure myself here because of the trained instructors and the fact that they communicated with my therapist at the same time when in question as to what was best for me.

"I would recommend Spine & Sport to anyone in need of PT. At least experience the difference. I have made so many wonderful connections here and have acquired many friendships that would have never happened elsewhere. I love my PT family."
– Sandy H. 
---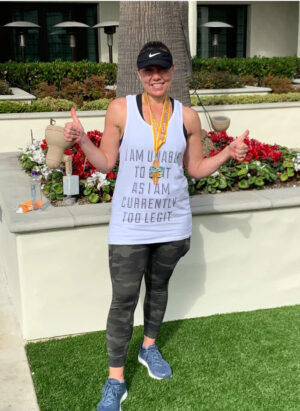 Marathoner takes first hobbling running steps
Shannon had originally signed up to run a half marathon in April of 2019, but in January, she fell and suffered an ankle injury. After visiting with her orthopedic surgeon, she knew completing  the half marathon in just a few short months was no longer an option. But, through her own personal motivation and the help of her physical therapist, she was able to overcome her injury and complete her first marathon-and beat her goal!
"When I originally asked when I would be able to run for the first time, they told me August. By June I was taking my first hobbling running steps. It wasn't pretty – but I was out there. There was discomfort – but I pushed through it. I went a little further each time. By August, l could run a distance of 3 miles."
Want to know if Shannon completed her race? Read more about her PT journey
---
Unable to throw a ball, raise his arm, or scratch his back, he decided it was time to go to physical therapy
"I will say that I am very impressed with Spine & Sport Physical Therapy. Everyone is very professional, attentive, concerned, polite, nice, etc. It's a class act."

– Les G. 
---
Pleasantly pushed to succeed

"The attention to detail of both the physical therapists that l worked with was surprising. Matt and Thomas were friendly and l left PT feeling  like 1, I actually learned something. And 2, I could take away everything they taught me and utilize in my everyday workouts. 3. It wasn't a standard, here's a sheet of paper that is filled with exercises, do them, goodbye. That last one is probably the most helpful in my recovery. They were able to supplement stretches, exercises and additional tips that I could utilize before, during and after my workouts. Ultimately, they heard me, understood me, and were genuinely so helpful to helping achieve my fitness goals … they did not limit me, they pushed me to succeed!"
– Kristina M. 
---
Life changing physical therapy

"Dr. Bissani was very thorough in her initial diagnostics exam. She immediately crafted a blueprint and then modified it over time to customize it for my goals. When required, and I was unable to match with Dr. Bissani's schedule, the rest of the team immediately picked up the ball and maintained continuity. I have spent the past 26 years in the healthcare industry and I am very well aware that communications between specialists is sadly very rare. In this case, the team was all signing from the same page and all the PTAs were very helpful in staying the course."
– Rob P. 
---
Painless as possible

"Entering a facility injured and not knowing what to expect can be a little intimidating. Those feelings were quickly changed with smiles and assurances that my needs would be addressed and my recovery would be as painless as possible."
– Nat S. 
---