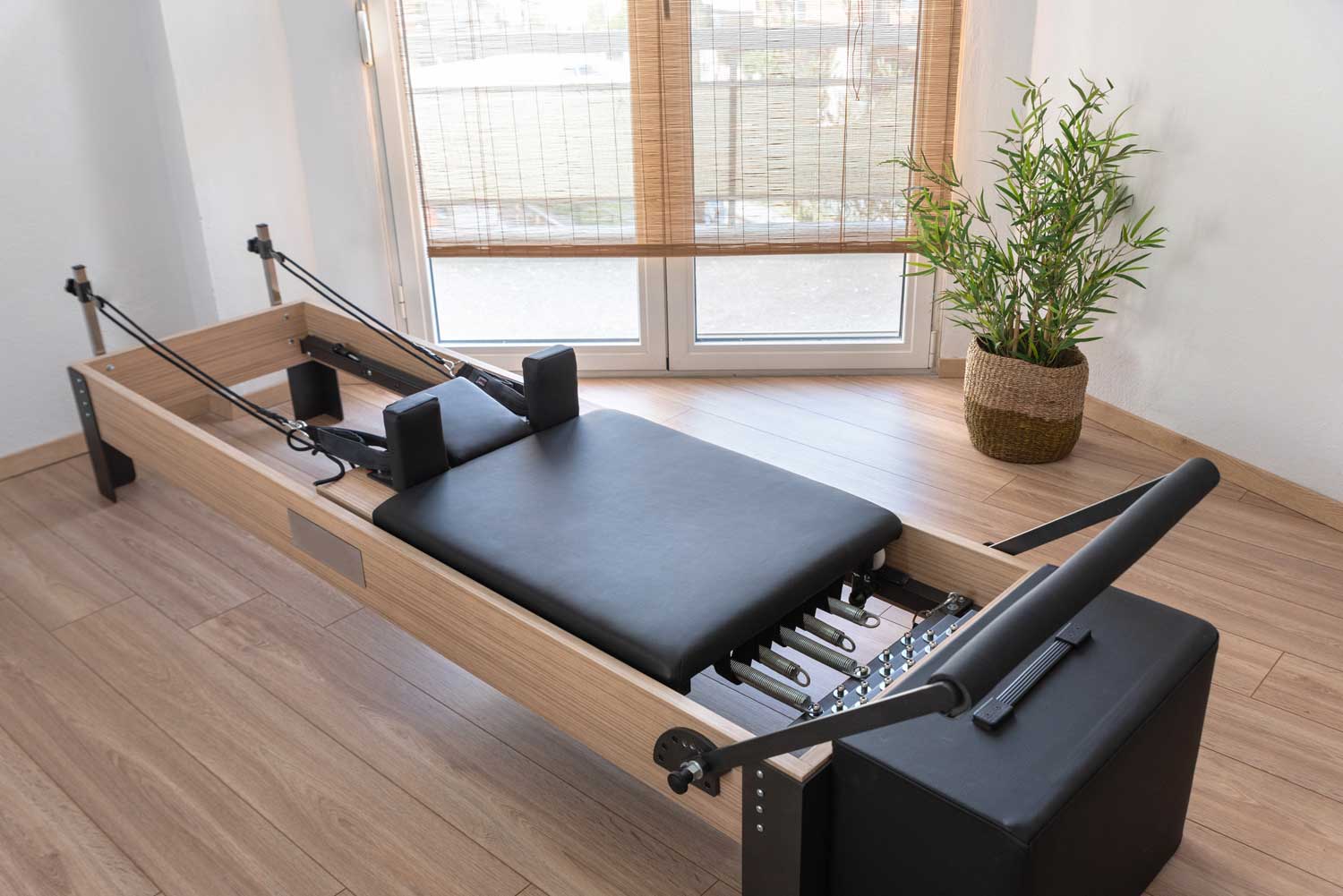 Who's the man behind our beloved exercise form, Pilates? The one that we should give credit to for helping us build stronger, more flexible bodies? That challenges us in new ways at every class? Joseph Pilates!
Background on Joseph Pilates
Joseph Hubertus Pilates was born in Monchengladbach, Germany, on December 9, 1883. There is little information about his early upbringing, but it is known that his father, Heinrich Friedrich Pilates, was an award-winning gymnast and his mother a naturopath. Joseph suffered as a child from asthma, rheumatic fever and rickets. Determined to overcome his physical disadvantages and ailments, Joseph dedicated his time to educating himself and finding ways to better himself.
Joseph Pilates began learning anatomy, while his father introduced him to body-building, gymnastics and martial arts. As he made these self-improvements, he quickly achieved the "anatomical ideal" figure and posed for anatomy charts.
The beginning days of Pilates
In 1912 Joseph moved to England where he made a living as a professional boxer, circus performer and self-defense instructor. During World War I, he was interned with other German citizens in Lancaster Castle. He began training the fellow internees in what later became "Contrology." This method of training required minimal equipment – think mat Pilates. He was then transferred out of Lancaster Castle and onto the Isle of Man.
It is said that at these internment camps, health conditions of those interned declined. With their physical and mental well-being declining, Joseph Pilates encouraged his fellow internees to exercise as it would improve their condition. Isle of Man also housed German soldiers who were injured during the war leaving them bed ridden, leading Pilates to create the first form of the "Reformer." He attached springs to their hospital beds, allowing them to perform resistance exercises.
After the war ended, Joseph Pilates returned to Germany. There his exercise program became wildly popular in the dance community, specifically with Rudolf van Laban. Joseph spent his time in Germany training dancers and police officers before deciding to leave Europe for the United States. In 1925, he immigrated to the U.S. via ship, where he met his wife, Clara. When the duo arrived in New York City, they opened their first Body Contrology Studio.
Pilates and dance
The fitness studio the duo opened in New York happened to share an address with the New York City Ballet (939 Eighth Avenue). The fitness studio and exercise form attracted many of the premier members of the dance community in New York City, more specifically ballet and modern dance. Some of the time's most famous dancers including George Balanchine (founder of the New York City Ballet and School of American Ballet, creator of today's version of The Nutcracker) and Martha Graham (founder of the Graham technique – a more modern dance style) sent their dancers to attend classes at Pilates' studio. It is noted that Balanchine himself attended classes at "Joe's."
Not only did dancers participate in the classes, many of them went on to open their own studios and teach Pilates themselves. These dancers included Carola Trier, Romana Kryzanowska, Ron Fletcher and Eve Gentry. Carola Trier was the first person, other than Joseph, to open a Pilates studio. Those that are considered the first generation of Pilates teachers have become known as the Pilates Elders.
Continuing the legacy of Joseph Pilates
Joseph Pilates passed away in 1967 at the age of 87. His wife, Clara, continued to run the studio in NYC until 1970 when she retired. Joseph and Clara's legacy lives on through some of their students as outlined below.
Romana Kryzanowska
Romana was a dancer who trained with George Balanchine at the School of American Ballet. Balanchine introduced her to Joseph Pilates for rehabilitation after suffering an injury to her ankle. After seeing the effect Pilates had on her, she began to train under Joseph. Romana was like family to Clara and Joseph, and after Joseph passed, stepped in as the Director of the NYC studio. After Clara passed and the studio changed hands, Romana opened Romana's Pilates where she both taught classes and trained Pilates instructors.
Elder Ron Fletcher
Ron Fletcher was a well-known dancer under Martha Graham and opened his studio in Los Angeles in 1972. Located on Rodeo Drive at Wilshire Boulevard, his studio attracted many of Hollywood's stars and influencers including Barbra Streisand, Candice Bergen, Ali MacGraw, Nancy Reagan, and Betsy Bloomingdale. Clara gave Fletcher her blessings to continue on the Pilates method. Fletcher continued to progress the Pilates method, developing a machine-less application of Pilates principles allowing the method to be done in the studio or home.
Elder Kathy Grant
Kathy Grant was originally referred to Joseph Pilates by fellow dancer Pearl Bailey after having knee surgery. She first started teaching at Carola Trier's studio then in 1972 took over the Pilates Program at Henri Bendel's Department Store, a high end retail store located off Fifth Avenue . Later in life, she moved her studio to New York University's Tisch School of the Arts. There she trained students, dancers (professional and retired), and nondancers. She is one of two people to be certified by Joseph Pilates himself.
Elder Lolita San Miguel
Lolita was a dancer who often took classes at a studio called Jacob's Pillow in Massachusetts. The director of the studio, Ted Shawn, happened to be a good friend of Joseph Pilates who would often teach at the studio. Years later, she suffered a knee injury and was advised to strengthen her muscles to alleviate her pain; that's when she found Carola Trier's Pilates Studio. She is the second person to be certified by Joseph himself. Lolita opened Pilates y Mas, Inc. in Puerto Rico and continues to give conferences and seminars on the Pilates method. She is also certified by Polestar Pilates Education.
Eve Gentry
A native of California and a dancer, Martha Graham saw Eve perform and offered her a scholarship in NYC. There she performed with Hanya Holm's dance company and later found her own dance group called the Eve Gentry Dancers. After suffering multiple injuries and illnesses (back, knee, breast cancer), she turned to Joseph Pilates for rehabilitation. After her recovery, she taught at Joe's studio for many years and then at the Tisch School of the Arts. She later moved to Santa Fe, New Mexico, and opened her own dance studio and Pilates studio.
Eve was diagnosed with breast cancer in 1955 and underwent a radical mastectomy that left her unable to lift her arms. With the help of Joe and Clara, she was able to return to dance within a year of her surgery. They filmed many of their rehabilitation sessions together and presented them to a local hospital. The hospital accused the two of lying, leading them to re-film with her shirtless.