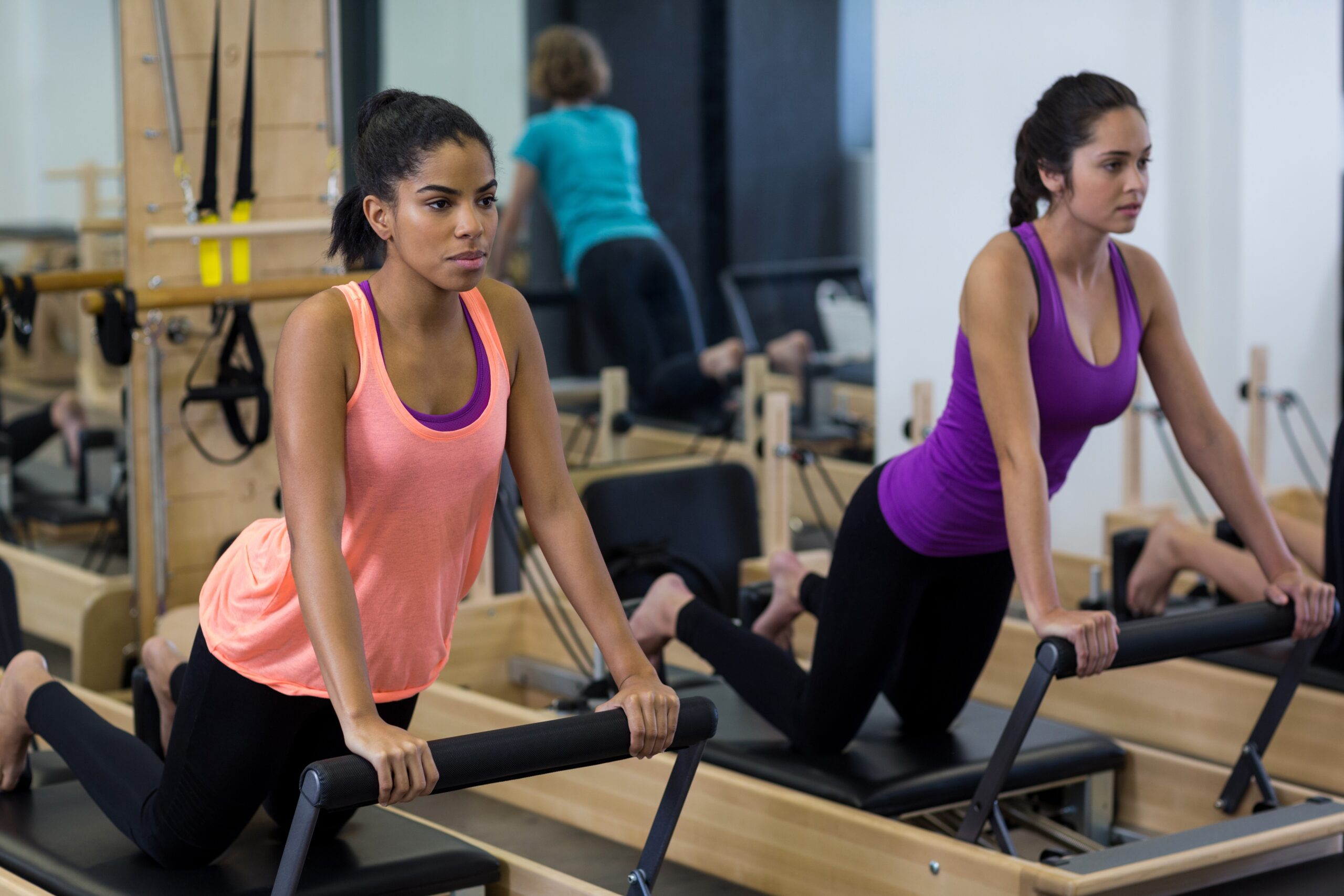 By now, many people have heard of or tried Pilates as a form of exercise. But did you know that Pilates for rehabilitation is also a growing practice? You may have read the POPSUGAR article that talked about Pilates being the "ultimate injury rehab," but here's some more information about the topic.
The Beginning of Pilates
Contrary to popular belief, Pilates was not created specifically for dancers. Joseph Pilates founded Pilates during World War I for injured soldiers. He created a system using hospital beds & springs that allowed the soldiers to begin their rehabilitation program while bedridden. In England, an influenza epidemic killed thousands of people, but those who trained under Joseph did not die. He believed it was because of the system he created.
When Joseph returned to Germany, his homeland, the Pilates method he created became widely popular within the dance community. After declining to train the German army in the use of the Pilates method, Joseph emigrated to the United States.
Upon arrival the U.S., Joseph and his third wife, Clara, whom he met on the voyage overseas, opened a Pilates studio in New York. The studio shared an address with the New York City Ballet, which was owned by George Balanchine. Balanchine took a liking to Pilates and began training under Clara & Joseph. Later, he had the Pilates duo train his young ballerinas.
How does Pilates fit into rehabilitation?
For years, there has been a common misconception that only dancers take Pilates. However, the misconception is slowly fading, as Pilates has become a popular form of exercise across the world. With studios popping up seemingly on every corner and being offered in physical therapy clinics, people of all different exercise levels, genders and ages have taken to the exercise form to increase their strength & flexibility. A lot of people come to our Rancho Santa Margarita Spine & Sport Physical Therapy location.
However, the most recent change in the Pilates world? The increased popularity of Pilates for rehabilitation. Here's why.
Non-weight bearing
There are different pieces of equipment that can be used in Pilates, but perhaps the most common is the Pilates Reformer. The Reformer is a bed-like frame with a flat platform. When exercising on the Reformer, the client lies down and places the feet on the foot bar with his or her head and shoulders relaxed. Pilates utilizes springs as resistance so the client presses against the foot bar to work the muscles of the body. In general, most of the exercises that are performed in Pilates are performed in a prone or sitting position.
Because clients are lying down, they are not working against gravity, which is easier on the joints. When someone is going through rehabilitation from something such as a knee replacement or back injury, being able to control how much resistance they have without the added pressure of gravity improves the rehabilitation process.
Pilates for rehabilitation promotes muscle balance
A common cause of injury is muscle imbalance. Some parts of the body are stronger than others, which creates an imbalance. Pilates, however, promotes muscle balance throughout the entire body.
In Pilates a common term you hear is the "core," also known as your body's center (think abdominal region). Every movement in Pilates starts by engaging your core, which creates alignment of the spinal column and pelvis. As you proceed through the workout, your entire body will be challenged!
In some classes & in the physical therapy setting, you may focus more on certain body parts, for example, the legs. However, all of the muscles of said body part will be challenged equally, thus creating balance.
Improve flexibility and strength
In any exercise form, you have the ability to improve both flexibility and strength. However, in most forms of exercise, they are separate. For example, if you are at the gym, you would typically stretch before and after exercise. In between, you would work on some strengthening exercises. With Pilates, each movement is designed to work on both your flexibility and strength at the same time.
Further, some traditional exercises like running build shorter, bulkier muscles, whereas Pilates aims to elongate and strengthen the muscles. When the muscles are elongated, there is less chance for injury because the muscle becomes more elastic and joint mobility improves.
Flexibility of the exercises
One of the best parts of Pilates is the ability to modify exercises . With nearly every exercise there is an alternative way to perform the exercise while working the same muscles. Depending on the individual's comfort level, degree of injury and familiarity with Pilates, the instructor can modify the exercises from beginner to expert.
Pilates is gentle yet challenging; strengthening yet elongating; flexible yet structured. It accommodates everyone from our younger patients through our geriatric population.
Over the years, we have seen many patients become avid fans of Pilates and some have even become instructors. Pilates has changed and continues to change our patients' lives. To find out more about our Pilates-based therapy, feel free to contact us at the Rancho Santa Margarita clinic. We would love to share everything that Pilates can do for you!